Sparks fly at third meeting of Hack N Akron
Hack N Akron presenters, before the work began, from left, Mark Petit, CIO of Akron and Summit County; Greg Genega, IT manager, FirstEnergy; Nick Petroski, event organizer; John Wright, Goodyear director of global applications; Leah Jones, from the office of Sen. Brown. (Photo by Richard Weiner/Legal News).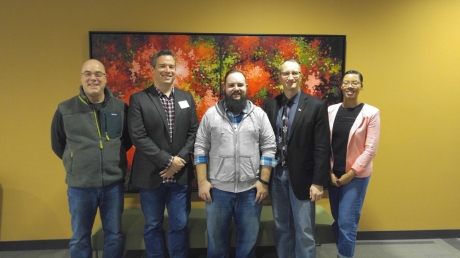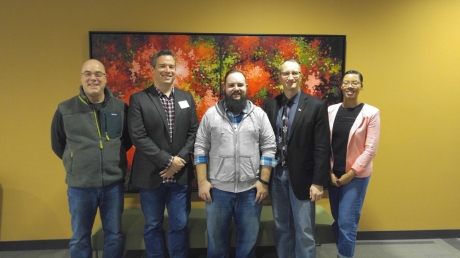 RICHARD WEINER
Legal News Reporter
Published: January 2, 2018
When the city of Akron and several of the city's leading corporations get together with young techies and designers, sparks can fly and the community can benefit said the event's chief organizer Nicholas Petroski.
That is the idea behind Hack N Akron, which held its third meeting at the First Energy headquarters in early December.
"It was absolutely awesome," said Petroski, after the group of 40 or so volunteers had made their presentations following a full day of intensive work helping to create solve problems that the city has neither the time, personnel or finances to work on.
Hack N Akron's marketing materials describe the venture as a "civic hackathon. Where most hackathons are tech-based, we are broadening ours to include multiple disciplines because we believe that when you bring a diverse set of people together, with the goal of bettering our city, the results will be truly transformative."
Hack N Akron 3.0 was sponsored by FirstEnergy and Goodyear. Representatives from those companies, the city, the county and Sen. Sherrod Brown's office all participated.
Mark Petit, CIO of both Summit County and the city of Akron, said that it was "exciting to see people use their sweat equity because they are proud of the area and want to keep it moving forward, even if the city doesn't have the internal resources."
Petit had strong praise for Mayor Daniel Horrigan's approach to technology, which he said got him to take up the city's CIO position after he had already been working for the county.
Petroski also said that Horrigan's approach to technology has undergirded the hackathon efforts, noting that he and the new mayor sat down shortly after the election and came to some common understanding that led directly to Hack N Akron.
"The goal is for Hack N Akron to be an extension of our team," said Petit. "We have constrained resources, and these people taking this data and working with it is very valuable."
Hack N Akron arose from the efforts of Petroski and others over the last few years at Launch League, an Akron technology nonprofit collective that helps early stage tech companies with funding, talent and community engagement, according to its website.
Petroski is also involved with Akron tech incubator OSC Tech Lab, which describes itself as a "physical space for Akron's entrepreneurs to thrive." OSC is located at 12 E. Exchange St.
Hack N Akron "concentrates on deliverables," said Petroski.
Early on, the city and the collective around Petroski decided on three primary deliverables.
First was transparent, clean public access to the city's database, based around creating an application programming interface (API), which would give the citizenry access to and ways to use to the city's data.
The second was a branding project that included all of the city's 24 neighborhoods.
The third was creating a usable scheduling calendar for public use of the city's school buildings, which are now all community learning centers (CLCs).
At the end of this last session, Hack N Akron had made considerable progress on all three initiatives, said Petroski.
The API open data project consists of "moving documents from paper to data" and allowing various forms of access, said Petroski.
"For instance, someone wrote a program for Alexa to connect to the database."
He said that this third round of work on the API was far and away the most successful.
"We are working on getting ways to get at the data and run with it," he said.
The neighborhood branding project, which works with design rather than technology per se, is "about getting the true stories of these neighborhoods communicated," Petroski said.
Part of the presentation at Hack N Akron 3.0 showed four logos already completed.
The participants in the project are almost ready to go with the rest, and has created a website to house them which will go live soon. Each logo has a different color scheme and group of pictures symbolizing the neighborhood.
The third project is an interactive calendar for scheduling events at city CLCs.
When Hack N Akron started on this project, it was extremely difficult to coordinate the use of the city schools' facilities, either by group or individually, said Petroski.
"We are pooling all of the CLC facility data online so that people can go and see where the CLCs are, what their amenities are, and fill out a form that will go to the facility," he said. "Eventually, people will be able to book online at an individual facility, and maybe have centralized booking. The school board is onboard with this."
Hack N Akron looks for participants who have the skills to contribute to these projects. Anyone interested can contact Nick Petroski at nick@osctechlab.