Login | September 29, 2023
Akron Law continues to make the ratings grade

Three Akron Law programs were recently recognized as among the top 50 in the country in the 2020 Best Law Schools rankings released by U.S. News & World Report. Akron Law Professor Ryan Holte, right, chats with Andrei Iancu,center, director of the U.S. patent and trademark office, and Kenneth Preston, left, director and associate vice president for research at the University of Akron, at the school's 21st Annual Symposium on Intellectual Property Law and Policy in March. (Photo courtesy of the University of Akron).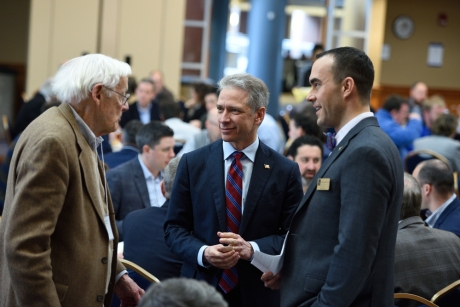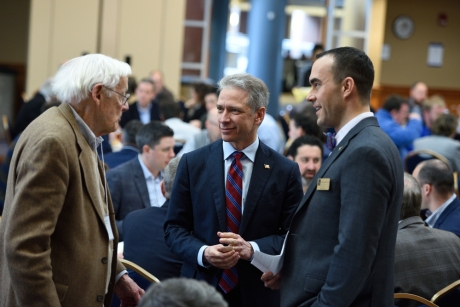 SHERRY KARABIN
Legal News Reporter
Published: May 3, 2019
A large number of courses, specialty clinics, networking opportunities, affordability and flexibility—those are just some of the academic and career offerings available to students who enroll at The University of Akron School of Law.
Now those interested in pursuing careers as intellectual property (IP) and trial attorneys have one more reason to consider applying to Akron Law.
This after the school's IP and trial advocacy programs were rated as among the top 50 in the country in their respective specialty areas in the 2020 Best Law Schools rankings released by U.S. News & World Report.
Akron Law's IP program tied for number 41 along with that of six other schools, including The Ohio State University Moritz College of Law and Case Western Reserve University School of Law. The trial advocacy program did even better, making the grade at number 34, the same rank as eight other schools, including Harvard Law School.
The school's part-time program was also recognized, tying for number 37 with two other schools. Overall Akron Law moved up by one spot to 143.
"In each category, Akron Law ranked highest or tied for highest among Ohio law schools," said Akron Law Dean Christopher J. (C.J.) Peters.
"While prospective law students should avoid overreliance on U.S. News & World Report or any other rankings system, we believe the specialty rankings are of some value, as they are voted on by experts in those fields."
Still, Peters said he strongly encourages prospective law students to visit each law school that they are considering before making a decision.
"The U.S. News rankings do not capture other important aspects of law school, such as teaching quality, hands-on experiential learning opportunities, academic and career support services and affordability," said Peters. "These are areas in which Akron really excels."
For example, Peters said Akron Law is the only top 50 national IP program with tuition less than $25,000 a year.
Affordability is far from the only reason students choose to enroll in the school's intellectual property program.
As David L. Brennan Associate Professor of Law Ryan Holte explains the program offers almost 30 core classes in IP law, two specialty IP clinics and nationally known events such as the recent 21st annual Symposium on Intellectual Property Law, which featured U.S. Patent and Trademark Office Director and Under Secretary of Commerce for Intellectual Property Andrei Iancu.
"During his Symposium address, Director Iancu described Akron Law as having 'one of the top IP programs in the nation,' calling it 'amazing,'" said Holte, director of the Center for Intellectual Property Law and Technology.
Holte said the 2019 Symposium had a record attendance of over 250 people.
"Participants were not only able to receive a full day of CLE credit, they also got the chance to network with IP professionals from northeast Ohio and meet dozens of our Akron Law IP students," said Holte.
Akron Law's IP program also lets students choose from several degree options, including an LL.M. in IP Law, a certificate in IP law for JD and non-JD students and a joint JD/LL.M. degree. Students can also receive hands-on experience in the Akron Law Trademark Clinic and SEED (Small Entrepreneur and Economic Development) Clinic.
"I think the greatest selling point is our job placement success for IP graduates, which is consistently at or near 100 percent, with significant starting salaries," said Holte. "National recruiters look to us regularly since our IP program has an excellent reputation and we have so many IP students."
Akron Law Associate Professor Dana Cole, who developed and directs the school's Summer Trial Academy, said he is excited about the program's recent U.S. News & World Report ranking.
"Our trial advocacy program takes a multifaceted approach to teaching real world skills to students interested in becoming trial lawyers. They develop and hone trial skills in the trial advocacy classes, the Summer Trial Academy, our clinical programs and the trial competition program," said Cole.
"Earlier this month, under the coaching of Cleveland lawyer Kevin Kita, our American Association for Justice trial competition team placed second in the nation by winning their region and then advancing all the way to the national championship round. This is the third straight year we have advanced to the national finals in a major trial competition."
In addition to the U.S. News rankings, the National Jurist's preLaw Magazine recently gave Akron Law's IP program an A. The trial advocacy program got an A-minus and the school also received a B-plus rating for its practical training, including its clinical and externship opportunities.
"The recent rankings underscore what we have known all along," said Peters. "Our IP, trial advocacy, experiential and part-time programs are among the best in the country and our affordable tuition makes these programs accessible to students from inside and outside Ohio."