HUD grant allows Akron Law Reentry clinics to assist young people

Recently The University of Akron School of Law and its partner, the Akron Metropolitan Housing Authority, received a $100,000 grant that will allow the two entities to help young people that have been involved in the criminal justice system to be reintegrated back into their communities. The grant is one of 18 awarded around the nation by the U.S. Department of Housing and Urban Development (HUD) and the U.S. Department of Justice. Under the Juvenile Reentry Assistance Program (JRAP), the two agencies are teaming up to assist people up to age 24 who live in public housing or could be doing so if they did not have a record. (Photo courtesy of Akron Metropolitan Housing Authority)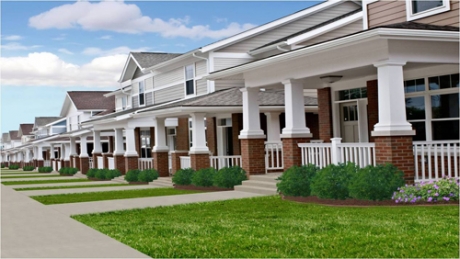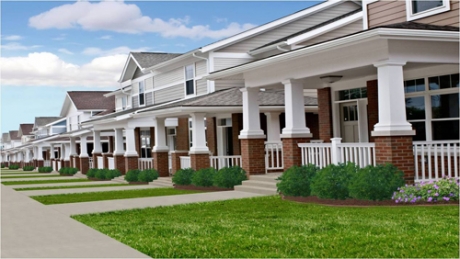 SHERRY KARABIN
Legal News Reporter
Published: June 1, 2016
For years educators and students who work in The University of Akron School of Law's reentry clinics have been doing their part to assist adults with criminal records to get their convictions sealed, seek pardons or apply for CQEs (Certificate of Qualification for Employment).
Recently the institution and its partner, the Akron Metropolitan Housing Authority, received a $100,000 grant that will allow the two entities to help young people that have been involved in the criminal justice system to be reintegrated back into their communities.
The grant is one of 18 awarded around the nation by the U.S. Department of Housing and Urban Development (HUD) and the U.S. Department of Justice. Under the Juvenile Reentry Assistance Program (JRAP), the two agencies are teaming up to assist people up to age 24 who live in public housing or could be doing so if they did not have a record.
In all $1.75 million was given to public housing authorities like AMHA that have partnerships with nonprofit legal organizations.
HUD Secretary Julián Castro and U.S. Attorney General Loretta Lynch announced the funding during a news conference in Philadelphia in late April.
In a press release HUD Secretary Julián Castro said, "Reconnecting young people who've paid their debt to society to decent jobs and housing allows them to turn the page and become active, productive members of their communities. These grants offer a helping hand to those who deserve a second chance so they have a real opportunity to reach their full potential."
The Akron grant, which was applied for by the Akron Metropolitan Housing Authority, is one of just two handed out in Ohio and Akron Law is one of four law schools to receive the money nationwide.
"The grant money will allow the school to provide legal services to those between the ages of 14 and 24," said Joann Sahl, associate clinical professor of law and director of the Reentry Clinic.
"We had to have a community partner commitment of 25 percent of the grant," said Sahl. "We had several agencies pledge $174,115 of in-kind services. The agencies committing to those services included AMHA, the Summit County Juvenile Court and the Summit County Department of Job and Family Services.
"To date our focus has been on the adult population," said Sahl. "Now we plan to use the grant money to assist juvenile and adult clients with sealings, CQEs, child support modifications and driver's license reinstatement."
Sahl said by helping young people to address their legal problems, it will be easier for them to find housing and employment. She said the inability to secure a decent place to live and a job are the two factors that lead to recidivism.
"What professor Sahl is doing is building upon programs that we already have in place at Akron Law," said Matthew J. Wilson, dean at The University of Akron School of Law. "We're excited that this federal funding will allow our students to help youth successfully reintegrate into society.
"Our students will gain invaluable experience while serving the community," said Wilson. "As legal professionals it is always important to provide access to justice and legal tools to those in need."
Christina Hodgkinson, director of resident services at the Akron Metropolitan Housing Authority (AMHA), said the organization has had a longstanding relationship with Akron Law.
"This grant provides another opportunity to expand our partnership with The University of Akron School of Law to provide legal services to help people up to age 24 to gain stability and reach their potential," said Hodgkinson.
In addition to applying for and administering the HUD grant money, in September of 2015, the AMHA joined Akron Law, the Ohio Department of Rehabilitation and Correction and the Ohio Housing Authorities Conference in co-sponsoring the "Ohio Housing Policy Summit: Rethinking Re-entry."
Over 200 people from 25 Ohio housing authorities attended the summit, with the participants examining ways to include formerly incarcerated individuals.
"The summit provided an opportunity for us to learn more about the research and strategies to use housing as a platform to contribute to reentry success," said Hodgkinson.
The AMHA has launched a pilot program that got underway this year, which allows five families to live in public housing even if a member has a record.
"This program will allow individuals and families to be reunited," said Hodgkinson. "The person can live with his/her family for one year as an approved guest. If they are successful in completing any court-ordered programs and securing employment they may become eligible to permanently become a member of the household or apply for housing on their own."
Hodgkinson said research shows that this approach to reentry strengthens families and enhances safety in communities.
"Referrals from the Summit County Reentry Court, other court systems or court programs and/or AMHA hearing officers will be the initial step toward acceptance to the pilot," she said.
"The housing authority already offers many programs focusing on stability, education, employment and enhancing the quality of life.
"The JRAP grant can provide the opportunity to continue to support individuals participating in the pilot program that qualify under the grant terms in addition to other potential participants."