BDB attorneys prevail in a $40 million fraud claim

In 2016 a team of attorneys at Buckingham, Doolittle & Burroughs led by Litigation Practice Group Leader John Hill won a major defense verdict for their client when a jury rejected claims of $40 million in damages. Pictured from the left are Partner and Litigation Practice Group Leader John Hill, Paralegal Kimberly Dornack, Associate Meleah Kinlow, Legal Secretary Veronica Miller and Associate Melinda Smith Yeargin. (Photo courtesy of Buckingham, Doolittle & Burroughs).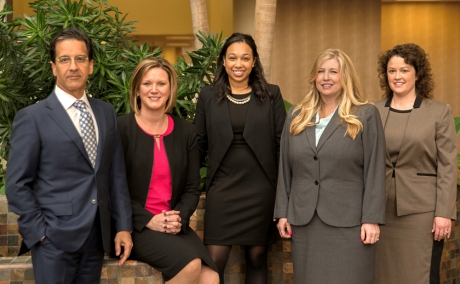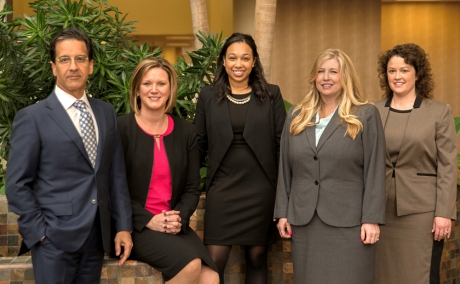 SHERRY KARABIN
Legal News Reporter
Published: April 14, 2017
Serving Northeast Ohio for over 100 years, Akron-based Buckingham, Doolittle & Burroughs assists companies and general counsel in six main practice areas: Business, Litigation, Employment and Labor, Real Estate and Construction, Health and Medicine and Trusts and Estates.
With offices in Canton and Cleveland, the firm's 64 attorneys often go above and beyond to help clients win in court.
In the 2016 jury trial involving Buckingham, Doolittle & Burroughs client Patriot Energy Partners, partner John Hill, associates Melinda Smith Yeargin and Meleah Kinlow and paralegal Kim Dornack moved to a Days Inn in Columbiana County for three weeks so they would be close to the courthouse.
The case involved a limited liability company formed by the plaintiffs and defendants in 2008 for the purpose of aggregating thousands of acres of oil and gas leases across four counties in eastern Ohio.
"Our clients were a group of people that included Akron drilling company Bass Energy and some individual investors in Columbiana County doing business as PEP Leasing Company," said Hill, the firm's Litigation Practice Group Leader.
"About a year into the projects things were looking bleak and more money was needed to keep the company (Patriot Energy) afloat."
As a result of the situation, Hill said the plaintiffs asked to be bought out. "Our clients did not want to do it but they found a new partner and they were able to buy the plaintiffs out."
In May 2010, Hill said the plaintiffs closed the buyout deal and received $850,000 for their 40 percent interest in Patriot Energy. In September of the same year, Patriot Energy entered into an agreement with Chesapeake Exploration LLC to sell its oil and gas leases to Chesapeake for $32 million plus some retained royalty rights.
In 2014, Medina attorney Kurt Denkewalter filed a lawsuit in Columbiana County Common Pleas Court on behalf of Cuyahoga Falls-based KB Resources and real estate developers Stephen Krutowsky and Thomas Bartlebaugh against Patriot Energy, alleging over a dozen claims including fraud and breach of fiduciary duty in connection with the buyout.
As the case progressed KB Resources retained Thompson Hine and its partner James Robenalt to serve as trial counsel.
"The plaintiffs argued that the defendants tricked them into selling their interest by falsely portraying the outlook for the company as poor," said Hill. "They said that we hid the true value of the company from them.
"We argued that the plaintiffs refused to invest additional money in the company to keep it afloat when things looked bad. And there was no way for the defendants to know that things would turn around and the company would eventually be worth so much. We saw it as a case of 'seller's remorse.'"
The plaintiffs sought past damages of $20 million for their claimed share of the Chesapeake purchase price, plus profits from royalties paid through the date of trial as well as another $20 million in future anticipated oil and gas royalties.
On Oct. 3, 2016, the jury rejected the claims for damages and ruled in favor of the defendants on all claims.
"Late in the case, a recording made by the plaintiffs in November 2009 in which they requested to be bought out came to light, which probably helped sway the jury to our side," said Hill.
"One of the biggest challenges for us in this case was that there were a lot of bad feelings about oil and gas people in Columbiana County," Hill said. "Many of our potential jurors had signed leases with oil and gas companies or at least had been approached by them, and reported some bad experiences or feelings.
"(Visiting) Judge Richard Reinbold allowed the parties to use a pre-trial written jury questionnaire followed by a two-phased voir dire of the panel. This made for a challenging but ultimately successful voir dire process"
Thompson Hine partner Robenalt, who represented the plaintiffs in the trial, declined to speak with the Akron Legal News.
In January 2017, Robenalt filed an appeal with the Ohio 7th district court of appeals.