Akron Law student finalist in Global Legal Hackathon

Akron Law student Kevin Burwell was on a five-person team that advanced to the final round of the first-ever Global Legal Hackathon held April 21 in New York City. From left to right (front row) are: Burwell and Cleveland-Marshall School of Law student Dana Beveridge. From left to right (rear) are: Cleveland-Marshall Law student Jackson Biesecker, Cleveland-Marshall Law Professor Brian Ray, BakerHostetler Technology Developer Mark Bruening and Mara Hirz, Cleveland-Marshall School of Law student. (Photo courtesy of University of Akron School of Law)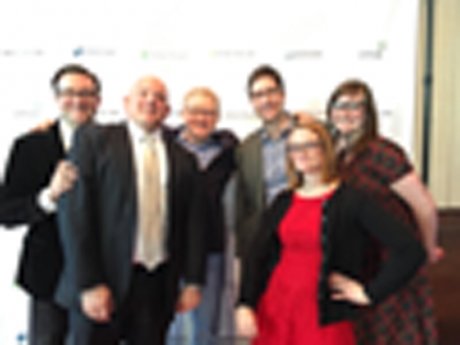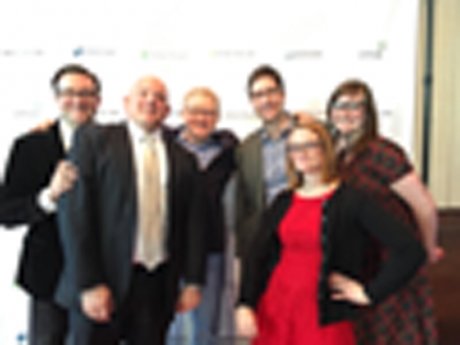 TRACEY BLAIR
Legal News Reporter
Published: May 18, 2018
An idea that began as a way to gain an in as a lawyer has become much more for third-year Akron School of Law student Kevin Burwell.
Burwell, a 48-year-old North Canton resident, was a member of a five-person team that recently made it to the final round of the first-ever Global Legal Hackathon.
The event, held in New York City April 21, was designed to bring together the best thinkers in law to support worldwide solutions to improve the legal industry.
Burwell's team, INCO-herent, was among 14 teams competing against participants from countries including Australia, Brazil, Canada, China, Germany, Hungry, Nigeria and Singapore.
The competition began with 1,000 teams from 22 countries spanning six continents.
Although Project INCO-herent did not win the entire competition, Burwell called making it to the finals a once in a lifetime opportunity.
"It went well," he said. "When we came off the stage, three different groups approached us because they were interested in investing. Although we never set INCO-herent up as a business, we do have a business model for it. So there was a lot of networking, and a lot of questions and answers. Our project is very niche-oriented, which I think is why investors are interested."
INCO-herent's goal is to provide a clear understanding of how to choose and verify appropriate use of Incoterms, or International Commercial Terms, when buying or selling across international borders.
Burwell, who has 20 years in international trade experience, suggested a blockchain-based solution to narrow down these terms and increase understandability.
A team then formed around his idea.
It all started several months ago, when Burwell saw an ad through Akron Law about a hackathon in Cleveland.
"As a law student, I wanted to impress the law firms," he said.
INCO-herent was also made up of three Cleveland-Marshall Law students and BakerHostetler Technology Developer Mark Bruening.
"I didn't know any of the other members, but we have now become the best of friends, connected forever," Burwell said.
Although people call INCO-herent Burwell's brainchild, he calls it a true team effort.
"We had an engineer on our team who is now in law school who had the eye for detail," he said. "We had an expert in social media presence, someone with the technical background and a Cleveland-Marshall law student who is a legit professional actor who did our video and the actual pitch."
Bruening said Burwell and the rest of the team was great to work with on the project.
"BakerHostetler participated in the Global Legal Hackathon as a way to think outside the box," Bruening said. "I was the technical person. We came up with an idea on how to apply blockchain technology to some of the problems with global shipping. BakerHostetler was the only law firm sponsoring it. I had tremendous support within the firm."
Burwell currently attends law school while working as Timken Steel's trade, customs and government contract compliance manager.
"My boss supported me in getting my law degree," he said. "I want to do international trade as a lawyer. Our company has been knee-deep in steel and aluminum tariffs. Our connections go all the way up to the White House. I have driven in the Trump motorcade."
Burwell added that Akron School of Law Dean Christpher C.J. Peters and Emily Janoski-Haehlen, associate dean for academic affairs and institutional excellence, were also very supportive through the whole process.
Each time received $2,500 in airfare and hotel expenses. The law schools offered to cover any extra expenses if need be.
"This project has generated so much attention and buzz," Burwell said.
"We had a great time, learned a lot and were exposed to some really innovative thinking," Bruening said.
Team INCO-herent was interviewed on the Legal Talk Network, Law.com and Above the Law.
The Legal Talk Network's podcast is available at https://www.youtube.com/watch?v=YmR1JRVpopg&feature=youtu.be&a=